X


Valid: EKAH50
Bringing Together of Spiritual and Healing Designs with Traditional Art
With EKAH products we honor and celebrate Gurus for bringing us these inspiring mantras and yantras from various spiritual traditions.
EKAH products are handcrafted by artisans using techniques that are thousands of years old. Each piece is handmade and takes 10 – 14 weeks to prepare.
By combining the inspiration of Gurus with the skills of great lacquer artisans, EKAH products will support you on your journey to the realization of love, peace, joy, and abundance.

" The positive energies created by EKAH products help me in my Sadhana( meditations ) and keep me connected as I go through my day.
I meditate on the center dot for the SriChakra Pendant for my manifestations."
- Hanita

"Love the beautiful colors of the chakra collection. My jaw dropped when I received my open heart pendant. It was honestly hard to choose. I have several already!
They are also so beautiful and stylish and wonderful part of my jewelry collection."
- Petra
To create beautiful quality products for the seekers on the path of Truth, Love, Devotion and Oneness…
These are powerful tools that we can benefit from when we couple it with our practices.
I wish our journey to be beautiful…- Rima, Founder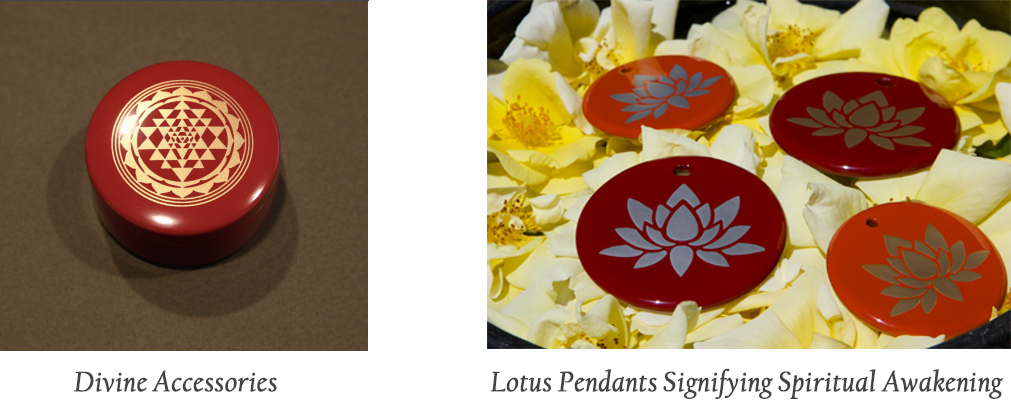 Raise Your Energies: Pendants that Inspire Spirituality
EKAH : Your Spiritual Partner