[recent_products_r per_page="5″ columns="1″ orderby="" product_styles="Default" order="" enable_slider="true" item_large="4″ items="4″ item_desktop="4″ item_small="3″ item_tablet="2″ item_mobile="1″ navigation="" pagination="" speed="500″ effect=""]
The Culmination of Spiritual and Healing Designs with Traditional Art

With these pieces EKAH honors all our Gurus' for giving us these inspiring mantras and yantras from various traditions to bring love, peace, joy, and abundance. We honor and celebrate our skillful and passionate artisans with extensive experience in the ancient lacquer techniques, connecting us to our reality on our journey to oneness.
EKAH jewelry and accessories are made in lacquered wood using natural sap produced by Asian lacquer trees. The sap's strength makes EKAH products of the highest quality. The Asia lacquer work goes back several thousands of years and even way back to the stone age. We have created these pieces for you in a multi step process involving multiple cycles of lacquering, drying and polishing. For our Japanese products we use MAKI-E technique. As these products are individually prepared through multiple step process and many of these are handmade processes. Each piece takes about 10-14 weeks to prepare and each piece is beautifully one of a kind.

" The positive energies created by EKAH products help me in my Sadhana( meditations ) and keep me connected as I go through my day.
I meditate on the center dot for the SriChakra Pendant for my manifestations."
- Hanita

"Love the beautiful colors of the chakra collection. My jaw dropped when I received my open heart pendant. It was honestly hard to choose. I have several already!
They are also so beautiful and stylish and wonderful part of my jewelry collection."
- Petra
To create beautiful quality products for the seekers on the path of Truth, Love, Devotion and Oneness…
These are powerful tools that we can benefit from when we couple it with our practices.
I wish our journey to be beautiful…- Rima, Founder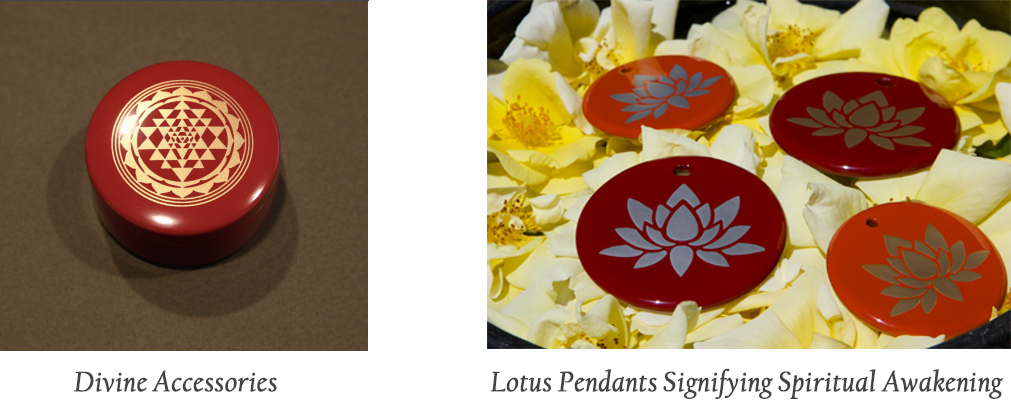 [rev_slider slidertitle="Fashion Slider 1″ alias="fashion_slider1″]